5 Best Work From Home Outfits To Boost Productivity
From having a week in the office loaded with work to talking non-stop about social distancing, things escalated real quickly. But isn't it just exciting to be around your parents the whole day and still be able to manage your work with family? Planning on work from home can be challenging at first but it isn't that bad of an idea since it gives you the luxury of freedom and flexibility to feel comfortable wearing your pajamas, leggings, flat slides, or any particular clothing that you find the most easement in. Let's overcome this challenge by striking into the right balance between our polished and comfortable clothes, while we still look presentable enough to confront our heads and colleagues in the online meetings.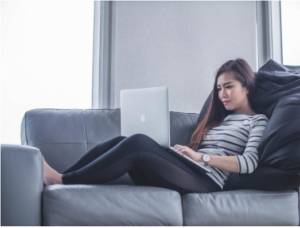 1. Explore your Monday style with an exceptionally matching outfit like the Gray Sophia snake print Ribbed stretch modal slim leg pants that promise you the class with luxury and comfort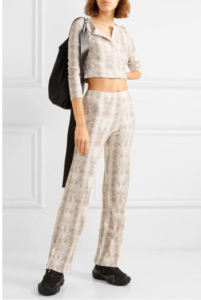 When working from home, breathe a little more life by pairing up your Monday outfit from a neutral color palette with a buttoned-up loose shirt and conveniently matching pajamas. A full-on suit can be a comfy and overwhelming vibe with the window open to feel connected with nature and work at the same time.
Get these pants from LESET at Net-a-porter.com available at $1390
2. Relax and merge your style with elegance in the comfy 90's Fit Mid Rise Loose Fit Jeans for your exclusive Tuesday feminine feel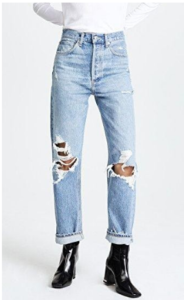 One of the most versatile yet comfortable items of clothing you could wear while working from home is the lightweight collared neck, puff sleeve shirt tucked inside high waisted loose jeans with a straight cut style and raw cuffs. The ultimate loose fit allows you to stay cozy for a longer period.
Get this from AGOLDE at Shopbop available at $188
3. Explore the world of comfort by stretching your Wednesday's refined style clothing with the cool Unwind Sweatpants
Since no one has to know what you wear on the bottom, one can decide to pair their ultra-comfy sweatpants, made from soft French terry, combined with an elastic waistband and cuffs with open side pockets. You can pair this up with a polished blouse to prove a statement and alleviate your last-minute stress on a video call with your company or the client.
Get these sweatpants from Aloyoga available at $98
4. Experience the ultimate comfort having the Milan Cropped Sweatshirt as your top priority for Thursday in the state of quarantine.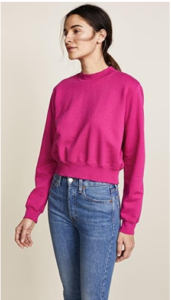 Feeling restricted would be the last thing you'd want while working from home. Why not pick a great loose cropped sweatshirt while remaining cozy. Considering it as a perfect waist up look in the lightweight French terry fabric with long sleeves and ribbed cuffs and a crew neck, it would feel fresh in a boxy silhouette with high rise denim for all those meetings in your calendar.
Get this from Cotton Citizen+ at Shopbop at $195
5. Lift your style quotient by architecting your Friday outfit with the warm Cotton Jersey Cycling Shorts to fit in the right size of comfort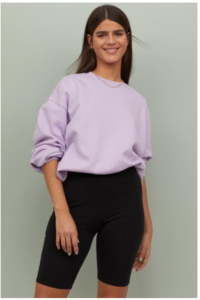 While you want to be caught in a video conference call, keep it simple and structured with a classic silk buttoned-down blouse and a high waist cotton jersey cycling shorts for a long hour meeting. The shorts are made of conventional elastane fiber and sustainably sourced material that keeps you cozy for a longer time.
Get these shorts from H&M at hm.com available at $9.99