Cynthia Erivo Channeling Her Classic Regal Grandeur at Oscars 2020
Academy awards are loaded with an exquisitely detailed demonstration of the film industry's latest talents and emerging fashion designer's collection with glamorous appearances and red carpet politics. Stars try to prove their artistic territory through their outfits and epic high notes of inspired wardrobes. The Oscar season tends to offer the emerging cinephiles a vision to explore new territory and set standards for style-conscious dresses. Celebrities from worldwide showcase their outstanding skills and contribution in the fields ranging from cinematography to production design, beauty, and styling, screenplay, and direction.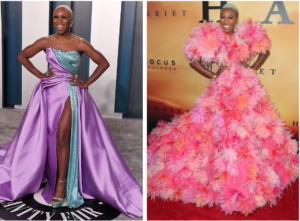 The 92nd Oscar Awards ceremony unleashed a similar result of stunning and outrageous skills of celebrities. One of the major highlights of the night included a fashion explosion that marked the glamorous beginning to the show which was made by Cynthia Erivo's entrance with a truly enhanced and innovative red carpet look. Celebrities often represent popular cultural phenomena and serve as brand ambassadors for aficionado style houses. They use these award ceremonies to enhance their public image or to just simply embrace the creativity of fashion. One of those celebrities includes Cynthia Erivo. With a delightfully quirky sense of style and aesthetically challenging personality, Cynthia Erivo has often left her audience shook wearing voluminous gowns and embellished glass beaded dresses.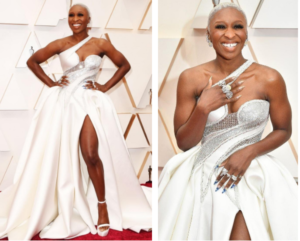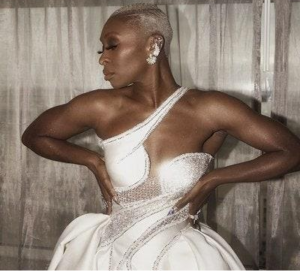 Yet another crafted and glorious look was observed from her side as she attended The Oscar 2020 event, where she got nominated for the best actress category and best original song. Cynthia Erivo stepped into the theatre with all shining and astonishing regal vibe which was magnified by her white Atelier Versace gown. Her outfit exhibit highlighted the bold queen look with one strap that interweaved the chest and fastened to a bustier top that was further characterized by crystals and silver netting holes.
Dressed with perfection and refinement, the outfit was designed by Jason Bolden keeping in mind the ethereal vision. Having her hair dyed in a spectacular shade of pearl blonde, with her exceptional makeup look providing sultry smoky eye and satin finish skin, she attracted most eyeballs as she posed for hordes of photographers. To add even more sparkle to the carpet she accessorized with some top-notch diamonds and glitter-infused gel to give a good plump to her hair. she even gave a gorgeous shine to her manicured nails by serving a constellation look with applied crystals.