10 Must Have Outfits For The Spring 2021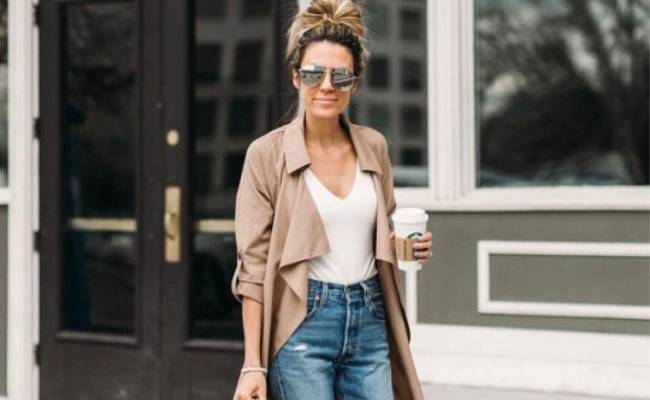 Surprise, surprise! The thought of roaming around in your slip dresses and bustier tops is just around the corner and our wardrobes are almost prepared to provide some room for the new outfits and spring fashion trends. From stuck on suits to business casuals, everything can be spotted across the streets showcasing more of a casual take on business spring trend. Suits are in with fresh and new updates that are added with vests and waistcoats, giving rise to three-piece attires as well as upgrading the casual wardrobe take. Let's take a look at the highlights of more literal picks for this spring season so that you can explore them and shop accordingly.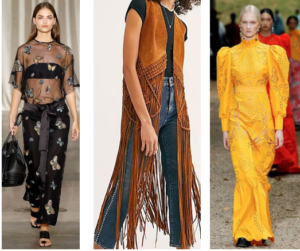 For a bold and underground street style look, Bra Tops are a perfect alternative to be worn around as a sign of femininity and body positivity with minimalistic fabric and an unapologetic presentation of amped-up sexy looks, bra tops sparked an ultimate uprising which was paired differently showing effortlessness of the street style with various outfits. From Athleisure to a ribbed olive bra top with a complete depiction of candy-coated apparel of vibrant colors and sparkling shine, these bralettes have even been rested between a skirt and a blazer.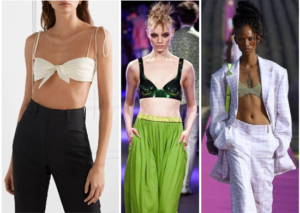 This Cha-Cha Pleated Poplin Bra Top from Orseund Iris looks stunning with high rise pants for an amazing spring fit available at Net-a-porter.com for $185
2. The spring's bohemian aesthetic Fringe clothing adorned with sequins, feathers and beads are on their way to create more fun and style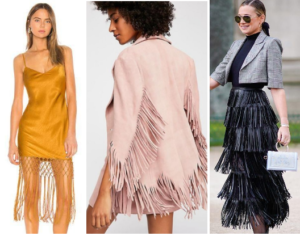 Spring 2020's Lotsa fringe fashion is out here finding their way in every possible clothing ranging from dangling kimonos, blouses and maxi dresses to Mae tops, Fringe-hem leggings, Midi Skirts, and Suede Fringe Blazers. This Marigold Chloe Dress from Camila Coelho is partially lined and fringed bottom hem with adjustable shoulder straps available at Revolve.com for $178
3. Artistic draping with effortless and structured tailoring from the '80s is back in trend blended with generous folds of fabric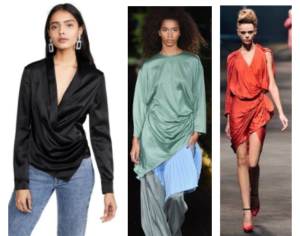 Inspired from the 1900's American barefooted performances, drapes became a fashion element in early 20th century and were included in the latest 2017 Versace Spring Collection infused with a modern twist and aesthetic leans. This Aurora Mock silk Wrap Top from Alice and Olivia is available at Shopbop.com for $165 that has been designed with a breezy and effortless style for casual office wear or a night out with friends. It is draped around with faux wrap silhouette, surplice neckline, and long sleeves with buttoned cuffs
4. Mini dresses, Short Hemlines, and brighter floral have found their way into the architectural polish for the Spring 2020 Collection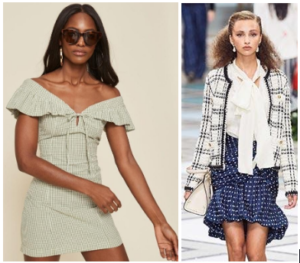 Streets spirited with flirty moods and playful dresses and skirts, everyone is ready to turn their heads and inspire whistles for the artfully designed hemline dresses that aren't just for night outs. From creamsicle shades to stripes and floral prints, this comeback trend is going to get bigger and bigger. This Verona Dress from LPA is available at Revolve.com for $198. It is designed in seersucker fabric with a hidden back zipper closure and ruched overlay.
5. Update your wardrobe from the dreary winter looks to Fit and flare knitted dresses and Bold Stripes for this spring season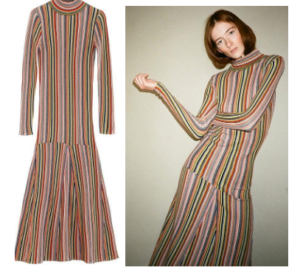 No spring trend is more worthwhile than romantic and clingy knitted numbers in the closet. When it comes to spring outfit silhouettes, one can't go wrong with the most flattering styled V-necked shirt dress with a straight shape illusion of curves. From bold stripes and ready linen shirtdresses to thick knots and fabulous maxis', these dresses are easy-to-dress attires. However, this Rainbow Multi Tilda Dress from Rodebjer is available at Bonadrag.com for $276, designed as a slim fit sweater dress with vertical stripes in rainbow colors with a short mock neckline.
6. Power puffed girls with buttercup, and bubbled sleeves are back with their superpowers from playing their debut in the '80s and stepping into the royal interest with iconic power shoulders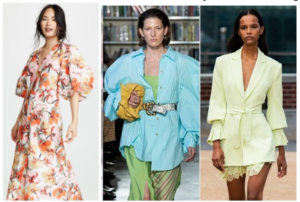 Power puffed shoulders are everything a girl has dreamt of for her new spring fashion trend with puffing up its pride. Fabricated in eye-catching colors and bright floral prints, these power puffs are here to prove their statement be the super chic outfit with the center of attention. One can easily pair them up with ankle-length boots or sandals to create a perfectly chic look. This Margot puff Sleeve Dress from Lee Mathews is available at Shopbop.com for $765 which is designed in Slubbed Weave fabric with balloon sleeves and floral prints, in a Maxi length V neck dress.
7. Spring is around the corner and the crocheted pattern is one way to actively participate in the warmer weather with see-through fabric to steal the street attention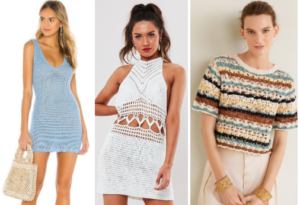 After seeing off the winter season, we are almost ready to start the spring with the most preferred and versatile garment that is ideal to wear from beaches to streets. The crochet pieces from different brands are out on display that can be worn underneath a cardigan, over a top, and even as a bathing suit. This Cyrus dress from Tularosa is available at Revolve.com for $188 that is designed in Crochet Knit Fabric. It can be paired with sandals or flats making it look less restrictive than stilettos.
8. Explore the most suited up and subtle red carpet hit Statement Bow trend while embracing maximalism and romance in many appropriate ways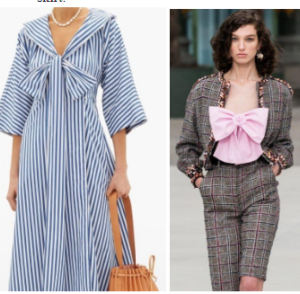 From red carpets to fashion runways, bows have turned out to be an exceptional trend that has suited unimaginably to various types of outfits. From dazzling gowns to Tulle and Monochrome dresses, oversized bows have managed to fit everywhere adding more subtle offerings to them. This Violetta Bow Striped Cotton Poplin Midi Dress from Thierry Colson is available at Matchesfashion.com for $611 that is designed with charming shawl lapels, neckties, and alluring low neckline and flowy skirt.
9. Reflect your subtle and romantic fashion sense by going forth and fabulous with Pink Ruffled Pieces to overtake on the feminine fashion wardrobe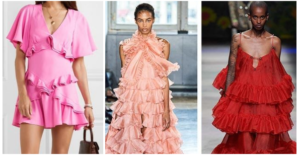 Spring season's exclusive romantic ruffled trend is back with no surprises but added fresh updates to the dresses. Summer and spring seasons are always incomplete without a flirty and feminine touch of ruffled looks. These outfits can be uniquely paired with solid colored bottoms or a plain white skirt with some accessories loaded along. This Jones Ruffled Crepe de Chine Mini Dress from Maggie Marilyn is available at Net-a-porter.com for $202 which is designed for a slightly loose fit and lightweight, non-stretchy fabric.
10. Style your Sheer and Monochrome outfit wardrobe for the upcoming vacation and festivities.
Dressing head to toe in a single shade may appear unsettling at first but is one of the simplest ways to upraise your personality. Unlike the worry to pair up your pieces and organize coordination, pulling off a monochromatic outfit is the easiest task to perform. This Eliza Mesh cover-up monochromatic dress from Devon Windsor is available at Intermixonline.com for $295 which serves a must-have beach style look with a long line silhouette topped with a pointed collar that splits at the front.