Ocushield Review
About Ocushield 
Ocushield is a company based in London that builds blue light filters to protect your eyes while also protecting your devices. The company was founded in 2015 by Dhruvin, a qualified optometrist who initially started the project to take part in a university competition. After winning this, he saw potential in the concept and worked with a team of clinicians to research and develop Ocushield products. In the past few years, the company has seen exponential growth and coverage and now boasts more than 50,000 customers.
The company makes Ocushield blue light filters in the form of screen protectors for many devices ranging from Iphones to all types of laptops and phones.
Benefits of Ocushield 
To get to the benefits of Ocushield, we first need to understand the concept of blue light. Blue light is a wavelength of visible light emitted from screens that enters your retinas, giving your brain a signal that it's time to wake up and get ready for the day. While this may seem beneficial, when this exposure happens for extended periods of time, it can lead to problems such as headaches, eye irritation, tiredness, etc. If this wasn't enough,
Blue light also restricts the production of melatonin (a chemical that helps us sleep)! This lack of melatonin worsens your sleep cycle and makes you feel awake even late at night when you should be sleeping.
Here is where Ocushield comes in with its blue light blocking products. While there are many benefits here are a few of them-
Improves sleep and protects your eyes with the blue light filter
No retro orange tinge on screen guards providing a clear picture
Super-strong tempered glass to protect your device screen
£1 is donated to RNIB sight loss charity for every order
Designed & developed by qualified Optometrists in the UK
All products are accredited as Class 1 Medical Devices by the MHRA
All products come with a 100-day return Policy
The company ships Internationally so products are available across the globe.
Best Products of Ocushield 
1. Anti Blue Light Screen Protector for Phones

($35)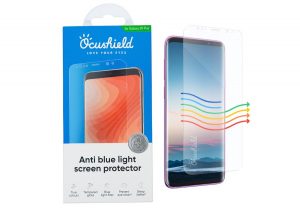 These Anti-Blue light screen protectors for phones are definitely at the forefront of Ocushield's amazing product range. They are high-quality tempered glass screen protectors that protect your phone amazingly from falls and dents. Along with this protection, these screen protectors block blue light and do this without leaving an orange-coloured tint making your phone perfect for use at night.
The product boasts an amazing 4.84-star rating and you can see why from this review-
"This is the best product I have ever found for my phone. I've been so excited since I found it and ordered it. When I finally got it, I was speechless how simple their application process is!!!!! It's like futuristic level! This product is underpriced, I swear. For what it is, you are getting a deal. We are buying one for each ipad we own also. Every person should own one of these because this will save your eyes." – Borbala B.
2. Anti Blue Light Screen Protector for Laptop ($40)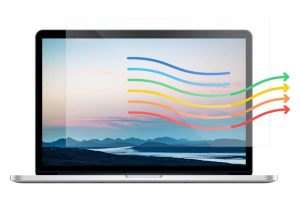 This product follows the same premise as the phone blue light screen protector but is redesigned for laptop usage. These screen protectors are available for all types and sizes of laptops and stop blue light rays while protecting your screen perfectly. If you are someone who works on their laptop throughout the night and have trouble sleeping, this may be the product for you.
Some added benefits of this product are
Infused privacy filter, stop prying eyes
Anti-glare coating, no more reflections
The screen protector comes with an application kit and the option to apply it in either a semi-permanent or removable manner.
3. Anti Blue Light Screen Protector for Ipad ($29.99)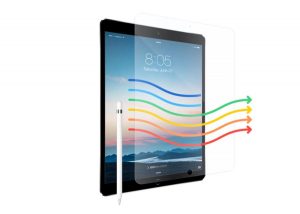 With your laptop and phone covered, there can only be one culprit left for hitting your eyes with that annoying blue light, your iPad! Thankfully, Ocushield now provides the same high-quality screen protectors that they sell for phones, for iPads as well. This means that you can binge-watch that new show all night and not have to worry about being awake throughout the night due to blue light exposure.
Notable Features
Comes with Cloth + Dust removers
100-day return policy
High-quality Tempered Glass
4. Anti Blue Light Eyeglasses (

$

56.00

)

This product is different from the rest but serves the same purpose. Eyeglasses! Ocushield now sells Anti Blue Light glasses for both men and women. These glasses are high quality and come in a nice case so you can carry them around with you whenever you want. They act as a fashionable accessory while blocking blue light without having to add a screen guard to your phone if you don't want to.
Notable Features
Improves overall sleep & protects your eyes
Shows you a crystal clear picture with 94%+ clarity
Boasts an anti-glare coating removing most reflections
Also has an anti-fog and full UV Protection function
Final Views on Ocushield 
Looking at all of this, Ocushield seems like the perfect solution for you if you have trouble sleeping or have problems from prolonged screentime. The company has perfectly tackled the problem of blue light and done it in a manner where we can integrate it into our normal lives. Screen protectors are used by almost everyone and this added benefit of blue light protection is a charm. Even if you are someone who likes to keep their phone rid of any protectors, you can buy the Ocushield eyeglasses meaning that there is something for everyone.
All in all, I think this company is doing great work and while it may not be for everyone, blue light filters are definitely something helpful.