Not To Miss This Spring Season Sale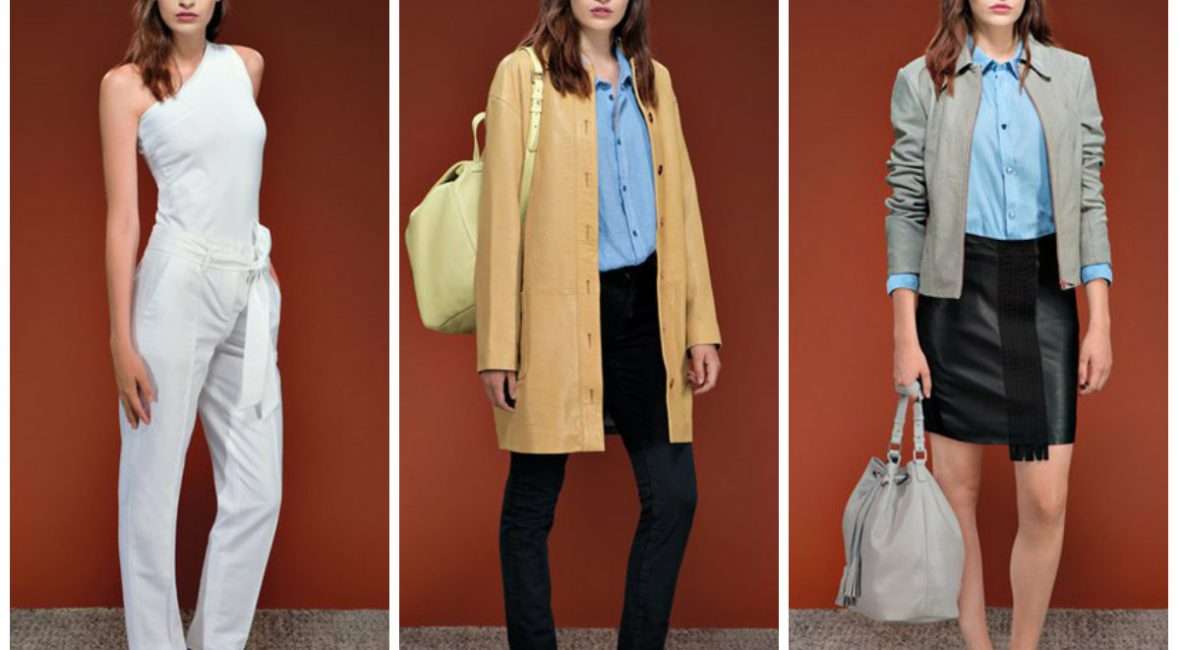 It's time to update your closet with new styles and to put away the winter layer! Spring is almost here and the collection comes up with a great spring saving sale. The spring season is all about innovative ideas, enthusiasm and freshness. This collection trade in this 2021 with Vibrant colours, floral prints, soothing light colours and many more. Coming up with more adequate needs and fresh arrival for all fashion shoppers, with deals like 50% to 20% off cashback offers on top brands.
1. Jessica Howard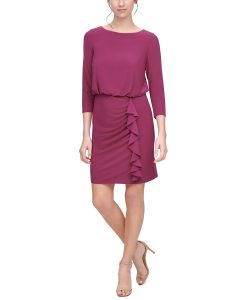 Cascade Ruffle Blouson Dress at Macys.com
Reg. $79 .00
Sale $46.99 (40% off)
Color: Orchid
Product Details
Pretty Jessica Howard dress with cascading ruffle at the skirts leads to give it a classy touch with a vibrant colour of orcid for this spring . With a material which can be machine washable gives this outfit more chance to wear it on most of the occasions with a touch of lining and polyester. Outfit designed with 3/4 sleeves and boat neckline with hidden back zipper closure can be a perfect alluring outfit.
2. Belldini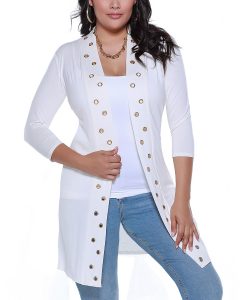 Grommet Placket Knit Cardigan at Macys.com
Reg. $88.00
Sale $35.20 ( 60% off)
Product Details
Long cardigan can be categorised in the most comfortable cloth for every women and this product ultimately gives a soothing touch of white colour to our eyes and detailed with chic grommet gives it more reason style with other outfits not only by detailed work but with the material of nylon , lurex and spandex it is easily washable.
3. DKNY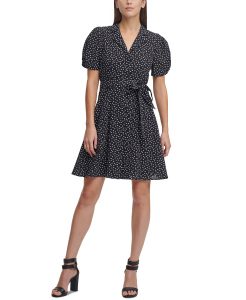 Printed Knot-Sleeve Shirtdress at Macys.com
Reg. $119.00
Sale $70.99 (40% off)
Product Details
With a printed material this product is all about being classic in every meet and greet with a self-tie-belt and waist defining silhouette it can be a best pick for your closet . This Shirtdress consists 100% cotton, lining , polyester and proper care with dry clean.
4. Tommy Hilfiger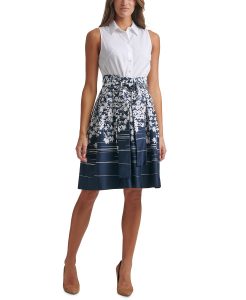 Sleeveless fit and flare Shirtdress at Macys.com
Reg. $129.00
Sale $79.99 (40% off)
Product Details
Tommy Hilfiger comes up with a unique and ease outfit with look of two piece which ultimately looks one . Detailing this Shirtdress with Self-tie-sash at waist and pockets at side of hips gives it a more fashionable touch with a front button closure and sky captain/ white colour. This Shirtdress is made up of cotton : woven and fresh with a little stretch.
5. Tommy Hilfiger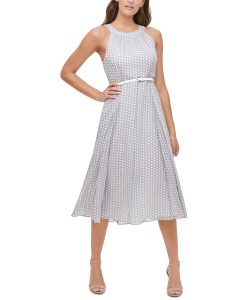 Belted Chiffon Midi Dress at Macys.com
Reg. $119.00
Sale $70.99 ( 40% off)
Product Details
Charming chiffon midi dress of Tommy Hilfiger with a sleek faux- leather belt defines the waistline and comes up with silver/ivory colour. This dress is styled with halter neckline; hidden back zipper closure and midi silhouette. Product material : Polyester; lining
Belt: Polyurethane
6. CeCe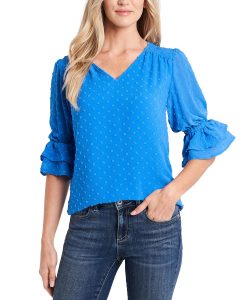 Clip-Dot Ruffle-Sleeve Blouse at Macys.com
Reg. $69.00
Sale $51.75 (25% off)
Product Details
This cosmic blue clip dot ruffle sleeve blouse is a perfect fit for your 9-to-5. With the texture of polyester and body lining it comes up with a great deal by CeCe.
7. DKNY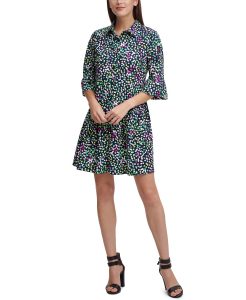 Printed Drop – Waistline Shirtdress at Macys.com
Reg. $109.00
Sale $64.99 (40% off)
Product Details
Vibrant print with drop-waist design and Navy Multi color must-have addition to your wardrobe. Shirtdress consists of Cotton /Spandex.
8. Tommy Jeans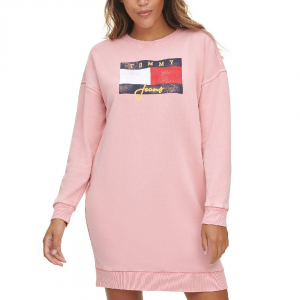 Logo Sweatshirt Dress at Macys.com
Reg. $69.00
Sale. $40.99 (40% off)
Product Details
With a super cozy and signature logo front turns this sweatshirt to be your favorite. Tommy Hilfiger Crewneck with pullover styling and Bridal rose colour sweatshirt is a must-have to your wardrobe and it's easily washable (machine wash).
9. Lauren Ralph Lauren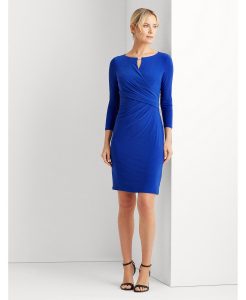 Wrap – Style Jersy Dress at Macys.com
Reg. $109.00
Sale $64.99 (40% off)
Product Details
Deep blue Lauren Ralph Lauren jersy dress is a ideal look for day-to-night events designed with a wrap-style bodice it is a great pick . With a gold -tone Lauren Ralph Lauren (RLR) consists or engraved with a metal plate at the neck . It is fully lined except the sleeves and it is concealed center back zipper with a hook -and-eye closure which gives it a touch of royalty. Made up with shell and lining: polyester. Machine washable.
10. COACH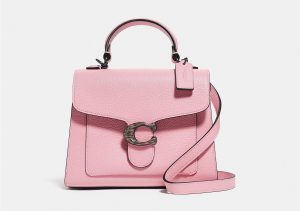 Leather Tabby Top Handle 20 in Pebble Leather at Macys.com
Reg. $450.00
Sale $270.00(40% off)
Product Details
With a signature hardware and tan powder colour gives an iconic touch . Modern touch on an historial and antique 1970s Coach design. With a size of 8″W x 5.75″H x 3.5″D this bag gives a ultimate touch to royalty and consists protective feet at the base with a well refined calf leather this product have multifunction pockets , removable strap , push button closure , inside zip , fabric lining and classy look . This is an addition to the family of tabby with an elegant new shape.
11. Wild Fable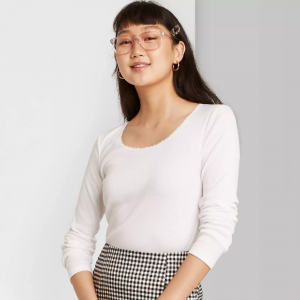 Women's wild sleeve Round neck Lace trim T-shirt at Target.com
Sale $10.20 clearance
Product Details
Made with a light weight fabric this rib knit tshirt with round neck is an comfortable wear. With a material of cotton 95% and 5% spandex it's easily washable.
12. LYSSÉ NEW YORK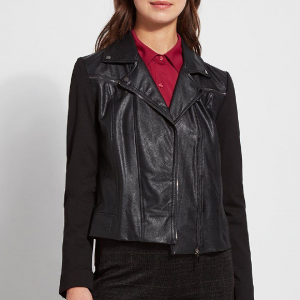 VESTA JACKET at Lysse.com
Reg. $148.00
Sale $ 29.99
Product Details
Textured vegan leather showcases this new Vesta Jacket slim fit with a front zipper overlap and detailing of gunmetal and backsnap zipper vents at the sleeve makes it look more stylish and fashionable. It is made up of 67% of black and 28% of rayon and 5% of spandex.