Step Out Of Your Comfort Zone to Embrace The Return Of Ultra-Bright Spring Trend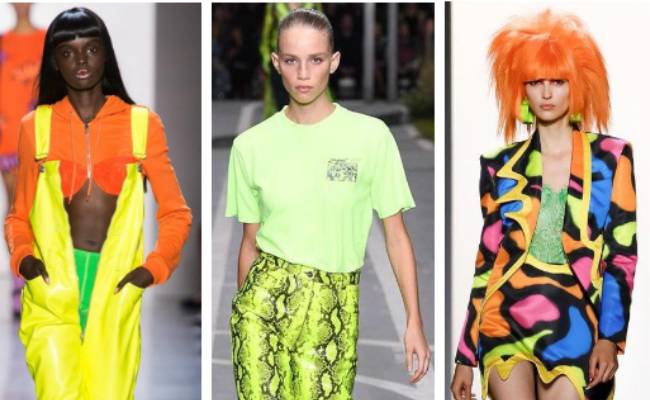 A perfect antidote to brighten up your wardrobe is almost here to re-highlight the long lost neon energy which was dominated by pastel blues and dark shades a few years before. Ultra-bright colours are paving their way into 2020 and are re-emerging in different inspirational collections served from three-piece tracksuits to casual satin skirts and maxi dresses. With a huge spectrum of fluorescent shades ranging from Gen-Z yellow to bold pinks and purples, the sudden surge of neon is here to dominate and gain the fashion scene in upcoming designer catwalks. These are the key palette of the season combined with artistically designed clothes in cartoon graphics and artsy paint prints.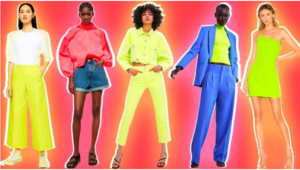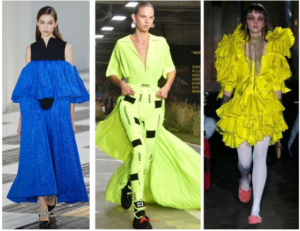 However, these neon shades are categorized and paired with different bright pieces to explore exceptionally striking looks while hitting the micro-trends to create exquisite fashion combinations. To begin with the streetwear neon love, urban fashion for women is decked up with bright hues with seasonal aesthetics. These include head to toe three-piece tracksuits with subtle pops known for their laid back elegance. These outfits are blended with silhouettes of different shades, joining the trendy animal prints, making it even dubious. The extreme left picture denotes yellow neon three-piece tracksuit combined with a short orange jacket with neon bright green joggers. Whereas moving on to the next model, it showcases the exclusive snake print pants paired with a light neon green t-shirt.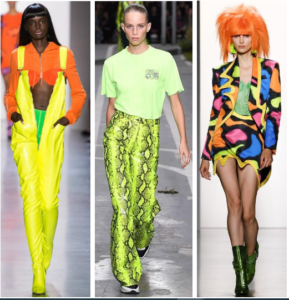 The evening wear neon outfits are adorned with highly sophisticated fashion whirl in vibrant shades to make them look extraordinary. Covering evening gowns, sported one-pieces, in deep chartreuse and bright green shades are seemingly more eye-catching and intimidating than other dull dark outfits. A bold ensemble with bright orange knitted backwards and cut out the neon signature twist, emboldened with prominent zesty hues and sequins would give an ultra-glamorous twist. As shown below, models are dressed in bright neon coloured dresses that are ideal pieces of clothing for evening wear. Ranging from vibrant fluorescent green to tight fitted bright orange and pinks, these outfits are also accessorized with light metal earrings and towering heels.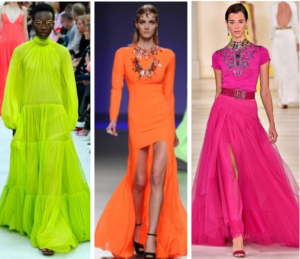 Hoping to boss it for the beach, there is a wide colourful collection of vibrant flowy maxi dresses with bright green neon and plenty of bold yellows that can perfectly sneak into your daywear. To carry casual and aesthetic look at the same time, a perfect mixing of bold colours and fluorescent tones would be a go-to fashion choice with flower power prints.
These colours are soothing for the beach purpose as they are specifically paired with bright colours yet stylish designing. Beach calls for calm shades of blues, greens, vibrant yellows etc.