Kim Kardashian Crushing Into Classic Risqué Latex Look With Her Twin Kourtney
Two hundred years of latex fashion, even this year, supermodels chose high shine latex clothing to slay the Paris fashion week 2020. Hey, beauties! So far as we have witnessed, Kardashian sisters have been the trendsetters for all the fashion weeks and gala events in the history of fashion. They have never been one with reserved personalities; rather have pulled a muscle and slew the style game like the divas. This year, it looks like Kardashian sisters decided to pick identical fashion choices for this year's Paris fashion week 2020, looking all fabulous and glamorous.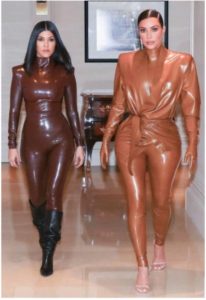 About a few weeks before, these hot American personalities were captured at Kanye West in Paris, exhibiting kindred outfits, which they not only wore at the Balenciaga's Paris fashion week but even off beaten the runway from Balmain's fall 2020 fashion show. With several assistants struggling to squeeze Kim inside the suit, Kourtney stood ready fully-boxed inside the suit, with seemingly relaxed facial expressions. The girls highlighted the look in their striking bodycon suits collecting aesthetic responses and displaying artificial fetishwear to the fullest.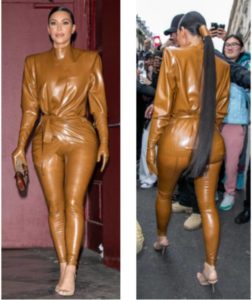 We saw Kim Kardashian wear her first latex look in 2014, promoting a fragrance brand in Australia and yet again she decked it up perfectly in a chocolate caramel, mustard-coloured latex legging ensemble, accessorized with a similar blazer with attached gloves like sleeves, plague gold ankled strap heels and staggering makeup look, which does not seem she'll grow tired of it anytime soon.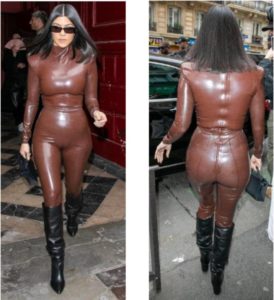 Whereas, Kourtney made an appearance while being suited up in a simple dark chocolate top with high-waisted pants and high knee-length black boots, showcasing her figure with black sunglasses. They loved it so much that Kardashian West carried a light pink coloured latex body fitted suit again during the dinner with their elder daughters.