11 Best Personalised Jewellery Ideas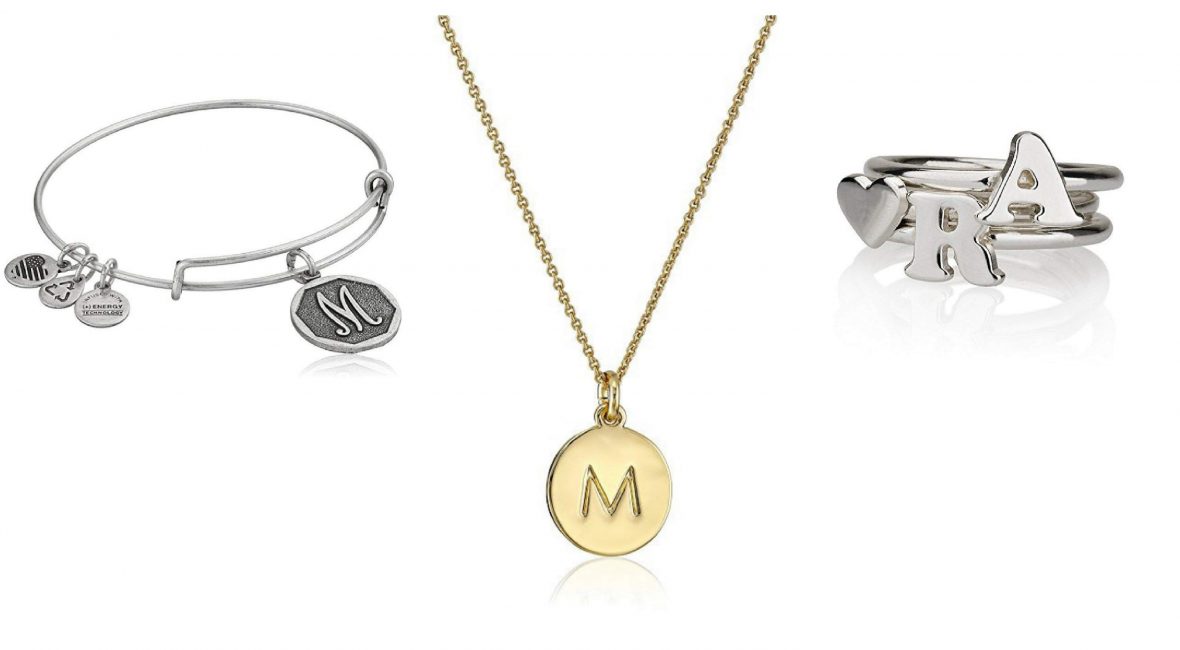 In today's fashion world, an outfit is not yet complete, until it's styled up with the perfect go to jewellery. While there are plethora of options to choose from, be it online or stores, having a personalised jewellery is the perfect way to incorporate personality and individuality to your style. Having that signature piece of jewellery just elevates not only your own outfit but also your personality. While there are plenty ways to customise jewellery, from simple selections to completely unique designs, having an understanding of the same, will help you choose the perfect piece for yourself.
Let's dive into the world of elegance of these unique personalised jewellery ideas that fits every occasion-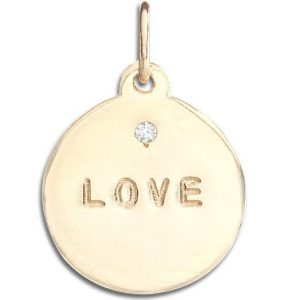 Buy Now for only $ 215.00
For somebody who loves to keep it minimal, yet impactful, this 14k gold disk comes with a custom engraving of your love. So if you are looking for something chic yet classy, this beautiful neck piece will be the perfect gift for your loved one.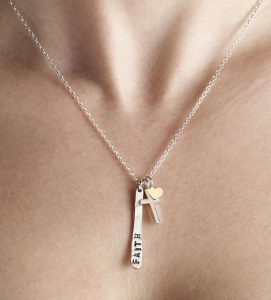 Buy Now for only $216.21
This exquisite silver cluster neckpiece comes with a name tag, a cross and a gold heart. This personalised silver pendant is perfect for a special and personal present. All the three components hang perfectly together in a cluster. There comes a hammered drop which can customised and stamped with a name or a word of your choice, in this product for example comes written with 'faith', a silver cross and a solid gold heart of 9k gold. So if you are planning to gift something warm and intimate on this Mother's day, you can blindly go for this beautiful necklace with no further doubts.

Buy Now for only $44.00
Bringing you the Amara Customised Ring, where Amara means "everlasting," so can can choose a meaningful word, name, or date so you or your loved one can carry it with you, always and forever. You can it with your current ring stack, or wear on its own as a bold standalone piece. The ring can fit up-to 6 uppercase characters and is available in gold filled, silver filled, and rose gold. So hurry up and grab your hands on this beautiful piece today!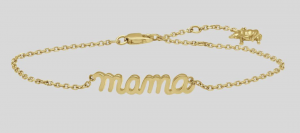 Buy Now for only $450.00
This delicate 18-karat gold bracelet just perfectly celebrates the most important woman in your world, a mother. In honour of the life bestowed upon us by these very women, this beautiful piece crafted with love, definitely does justice. It has been designed with an adjustable sizing, which she would possess and cherish as endearingly as your love. Also, it comes delivered with a special handwritten note just for your special occasions.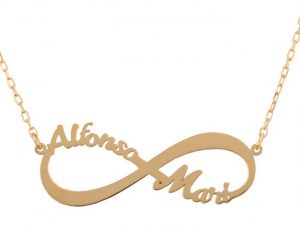 Do you also wish to have your special someone right with you 24×7? Well, it might not be possible at all times but you can carry a token of your eternal love wherever you might be. Bringing you this lovely 18k gold pendant, that can customised with your partners name and yours. The chain has a size of 45 cm adjustable to 40 cm for your easement. So for that everlasting love and unbreakable promises, this infinity necklace is exactly what you are looking for!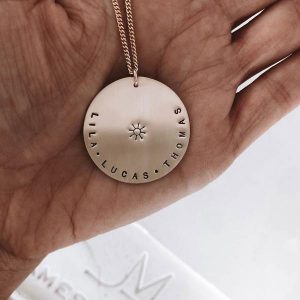 Buy Now for only $98.00
"Some people are so much sunshine to the square inch." For the people who bring light and shine to our lives, this Large Coin Necklace, hand stamped with a word or small phrase of your choice will be the perfect to team up with any outfit they want. The large coin comes stamped with a sun in the centre to remind you of faith and sunshine and names/words or a small quote around the bottom edge.
Each letter is beautifully hand stamped which makes it outshine in huge pot of jewelleries available in the market.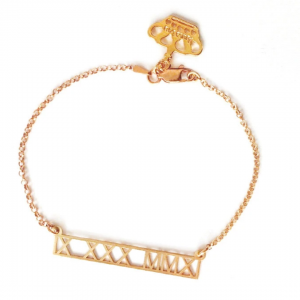 Buy Now for only $60.00
For the those special dates, be it your loved one's birthday or your anniversary, this beautiful roman numeral special date bracelet would be the perfect gift for a perfect evening. This unique piece of jewellery, where only you know the meaning of what that special date is perfectly blended in 18k gold plated sterling silver and 18k rose gold plated Sterling Silver. So if you're wondering of how to make it special for your loved one, don't waste another second and grab your hands on this beautiful piece.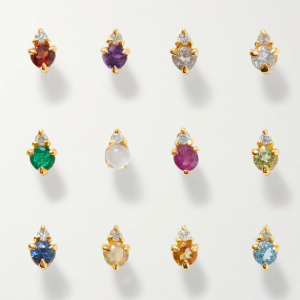 Buy Now for only $135.00
Colourful jewellery has always been one of the fashion world's biggest jewellery trends. For someone with multiple ear piercings, or someone who loves to experiment with fashion, gift your fun girl this exquisitely crafted gem that features her birthstone along with a small sparkly diamond.
Buy Now for only $245.00
Add a subtle tint of colour to your rocking ring game with a 14-karat gold birthstone ring. These rings are based from Brooklyn-based jeweller Shahla Karimi's label, which makes it outshine and out of league. So if you're someone who loves to explore fashion beyond the obvious, you should definitely try your hands on this Shahla karimi 14k gold birthstone ring of your choice.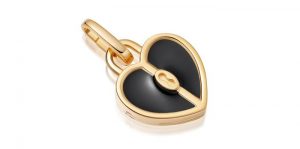 Buy Now for only £110.00
Sculptural yet sleek, one can share the love with this gold and black enamel locket necklace from Missoma's first ever Hearts collection, paired with the iconic Aegis chain. Moreover, you can mix and match this unique piece with other pendants as well. You can engrave it for free or can keep a photo inside for a more intimate touch. In any way, this beautiful sleek piece is perfect for that first Valentine's Day gift as it will just imprint your love on your special one!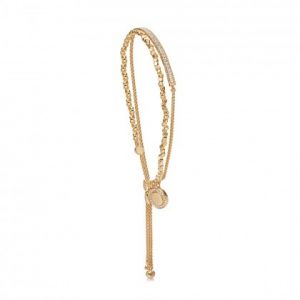 Buy Now for only £180.00
This cute bracelet stack is made up of two 18 carat gold-plated sterling silver friendship bracelets with are crafted specially for the those everlasting friendship bonds and features a beautiful cosmos charm detailing as well. This adjustable bracelet stack offers elegance and charm which you can carry everyday with you with a free engraving of your choice.
These were some of the stunning personalised jewellery ideas that would add on elegance and grace to your personality in the best way possible. Do get your hands on these exquisite pieces and rock that outfit of your choice. Happy Shopping!